BROWN family headstones at the Port Austin Township Cemetery, Port Austin, Michigan.

Photos taken July 27, 2002.

If you need high quality 1600×1200 images, just drop me a line and I will send them to you.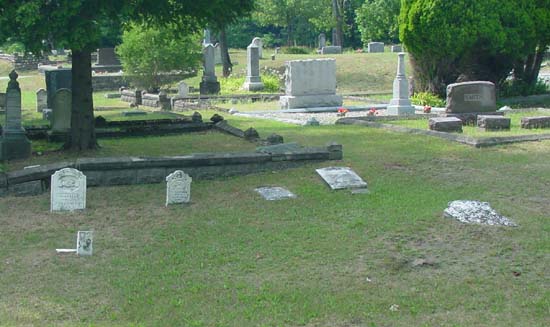 Enter the cemetery at the center drive, to the right of the sign shown above.  Approximately 50 feet into the cemetery, look to your left (westward) and you will see a low spot that looks like this photo.  Here is where the majority of the Brown family members are.  Starting at the left is Semantha Joles, Nancy E. Brown, Nancy Brown, David Brown.  The large fallen stone to the far right is Ira Brown.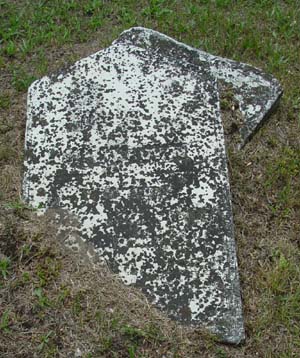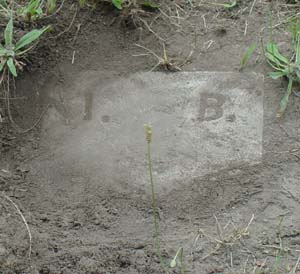 Very difficult to see, but these are the head and footstones of Ira Brown.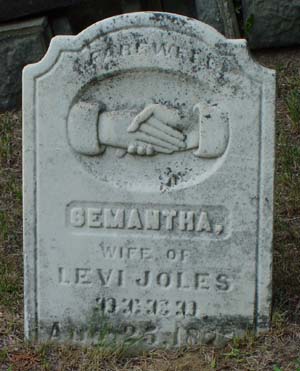 Farewell Semantha, wife of Levi Joles.  Died Aug. 25, 1877.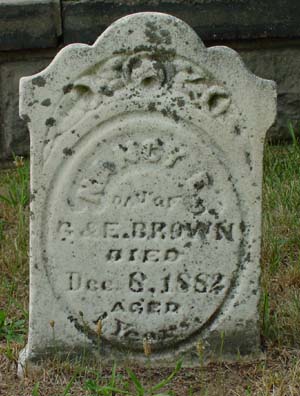 Nancy E., dau of G. & E. Brown.  Does Dec. 8, 1882 ages 1 years.
Nancy is the daughter of George Henry Brown and Emma May Bowen Brown, my 2nd Great Grandparents.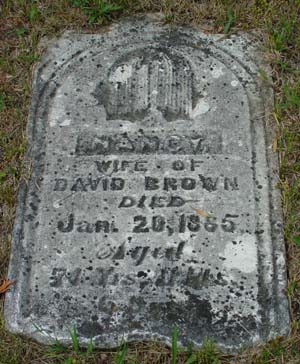 Nancy, wife of David Brown.  Died January 20, 1885, aged 74 years, 11 months.
Nancy Peterson Brown is my 3rd Great Grandmother.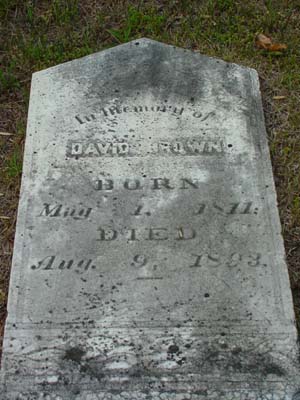 In Memory of David Brown, Born May 1, 1811: Died Aug 9, 1893.
David is the husband of Nancy (above) and is my 3rd Great Grandfather.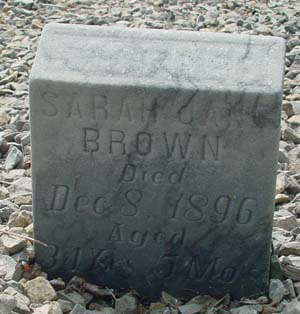 To the right (south) of the above plots is this one – Sarah Janes Brown, died Dec. 8, 1896 aged 34 years 5 months.  It is unknown if she is related to the above Browns.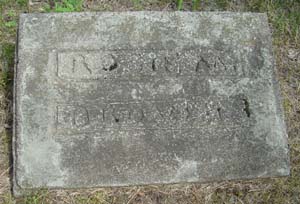 Although it is hard to see, this undated stone says "Rosie M. Brown".  It is made of concrete and appears to be hand made.  It is located at the far rear (north) center of the cemetery, near the woods.
It is quite close to this stone, Robert Brown 1872-1953  Rosie M. Brown 1878-1940.  I do not know if these folks are related to me either.
Update 9 June 2011:  Evelynn Cartwright of Ontario, Canada writes: "The Robert and Rosie M. Brown gravestone at Port Austin Twp. Cemetery are my Browns. She was Rosie May McDonald, daughter of Joseph and Cordelia McDonald. Robert was the son of George Brown and Henrietta Wharram (great great aunt) who lived in Dwight Twp., near Port Austin. Also gravestones for Addison Albert, died 1899 and Alfred Brown, died 1913 are also sons of George and Henrietta Brown. Also Charles Brown in St. Michael's Roman Catholic Cemetery, Port Austin was another son."  Evelynn is a Wharram descendant.